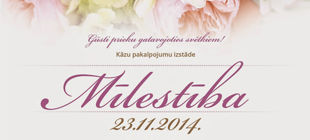 Dear customers, company "VIGORIUS" is actively preparing for the exhibition of wedding services " Love". It will take place on November 23, 2014, in Liela Gilde, Amatu Street 6.
The exhibition is organized by "Kazu Agentura». During this project at 1 p.m. and 3 p.m. two seminars will take place: "Planning of the Wedding Budget", and "Wedding Scenario and Day Plan". The exhibition will be hosted by Elizabete Zagorska and Egils Melbardis. You will have an opportunity to meet providers of various services under the same roof. They will make your wedding the most magnificent and unforgettable day of your life. You will find out about wedding venues, choose invitations and table decorations, see the work of photographers, florists, videographers. Tour operators will offer enticing honeymoon trips to every corner of the world.
The exhibition will offer wedding outfits and the most important attributes - RINGS. No wedding is possible without them. Our company "VIGORIUS" will have a stand. There you will be able to see the large selection of gold and silver engagement and wedding rings. You will also be able to see the examples of our custom made rings, try them on and choose a ring for you. Everyone planning a wedding is welcomed. You will save time, and find in one place everything necessary to have a spectacular Wedding.