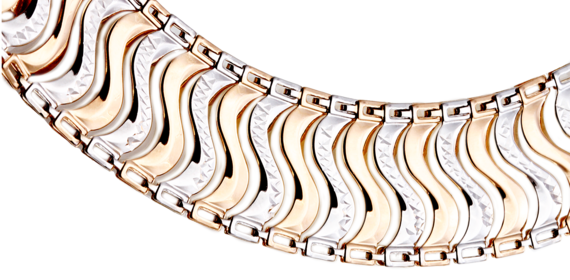 Necklace – it doesn't matter if it's decorated with stones, or is it a fine chainlet with pendant or rope of pearls – for you to look irresistible, you have to consider its length, your face and body shape, here are some of the basics you need to know, for easing the pursuit of "The One" necklace.
Easiest way to figure out the perfect necklace length, is to measure the extended length of the necklace you wear most often. That's likely the most flattering length for you, or the one that works best with your wardrobe. For a more measured process, think about your entire body — from the shape of your face to the size of your bust to your height to your general body type.
Length and width
A 38 cm long necklace will work beautifully on a long, thin neck (the proverbial "swan neck"). 

On a short neck can that kind of necklace can make that neck look stubby — and possibly wider than it is. Instead, choose a necklace 50-60cm long; this will elongate your type of neck and make it more swan-like. 

Wrinkled necks need to stay away from short and tight necklaces too. Use a longer necklace, perhaps with a stunning pendant, to draw the viewer's eye away instead.
Usually, a necklace shorter than 55 cm sits above or at the bust. When you go longer, though, you want to be sure the necklace works with the length of your torso and your bust, especially if you are short or full-figured.
Where many women make a mistake is by not considering height.
Women of average height and taller can wear just about any length necklace. 

But short women may be overwhelmed by long necklaces and chunky designs. If you're 1,65 m or smaller, choose a length that sits on your collarbone or just below.
Face shape
Oval faces can wear any length of necklace (keeping in mind, of course, height, neck and body size). 
If you have a round face, you want to pick a longer necklace, possibly with a pendant or charm, ideally something that creates a slimming "V" Avoid the round choker as it will make your round face look rounder. 
The recommendation is exactly opposite for heart-shaped and long rectangular faces. The roundness of a choker will smooth out the heart shape's planes and angles.